Bartlett 311

Posts

: 35


Join date

: 2018-01-07


Location

: Chandler

Mon Jan 14, 2019 10:08 am
Wow! Is it 2019 already?!  Time for me to get off the couch (or out from under the project car restoration), find my riding gear...wash off last year's grit, look over the bike and panic over the things I should have repaired weeks ago. Yeah, as always I'm a bit nervous as I never prepare and keep swearing to myself that next time it will be different! lol The first race seems to typically have a large turn out so I expect this weekend will be no different
Who's ready, who's wishing they were and who got a new ride for this year?
Sir George, will be get to see you race this weekend?
Jim George

Posts

: 12


Join date

: 2018-09-04

Thu Jan 17, 2019 10:04 am
Hello Bryan, unfortunately I will not be racing this weekend.  We have a funeral service to attend on Saturday.
I have not rode since the AZ Open weekend (Sunday on the Vet track), then got the fun cold / lung congestion stuff 2 weeks later and now thats over I feel up to riding again.  I need to practice on the National Track to get ready for the Loretta Lynn's Area Qualifier in a few weeks, then I may show up to another AZOT race later this Spring.  My focus for the Spring is to (hopefully) qualify for LL's again, it's my last chance to have raced there for 4- consecutive decades!  Raced in 82, 85, 90, 97, 99, 00 & 01.... so I need it this year if all goes well!  LOL.
Good luck this weekend and I will see you at another round.
Since this is Thursday... here's a TBT for you.
1982 LL's I am first Moto (Open A) on Thursday morning of the very first LL's.  I asked my cousin to take a photo of the first ever start as we come around the Billboard and guess who is leading the way #19!  
I still don't get "official" credit for the very first LL's Holeshot... but here it is for your viewing pleasure!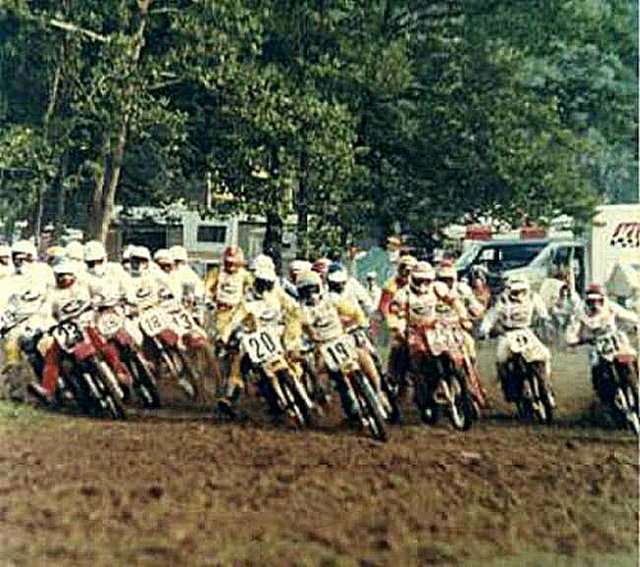 Concep29

Posts

: 5


Join date

: 2018-04-27

Perfect conditions for the first race, thanks club board for the work you do. Vet X track much improved form the 4yrs I've been away. Good seeing some friendly faces again.

Glenn
Permissions in this forum:
You
cannot
reply to topics in this forum